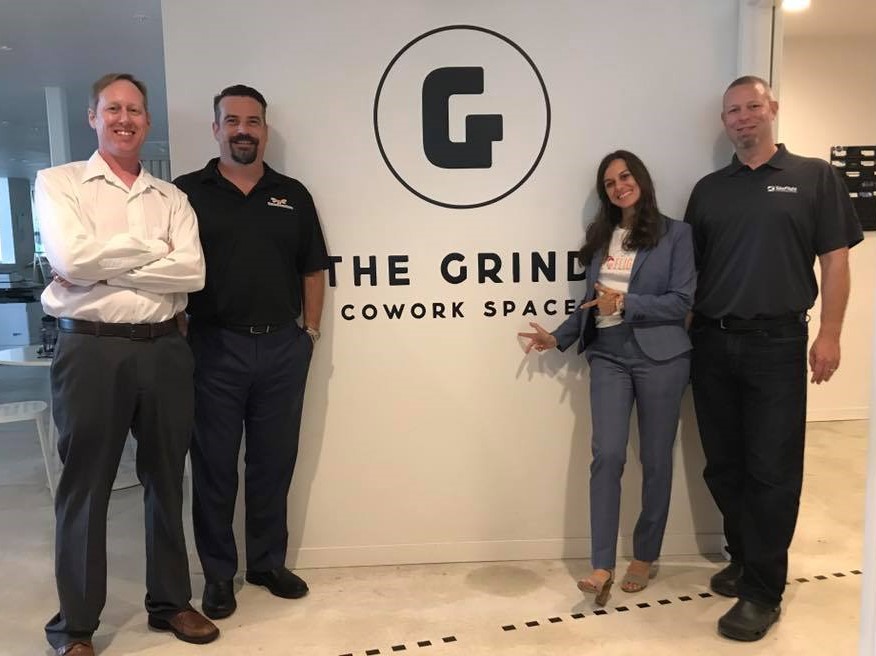 Class of 2017 participants. (From left) Russell Kirkman (Tellus Aerospace), Joe McMillian (DroneTerminus), Liz Duca (PreFlight Aviation Camp) and Brandon Seltz (TakeFlight Interactive).
Important AeroInnovate Dates
Applications Close: March 16, 2018
Accelerator Start: June 1, 2018
Cohort Arrives in Oshkosh: July 20, 2018
Pitch Camp: July 21-22, 2018
EAA AirVenture Oshkosh: July 23-29, 2018
10th Annual Pitch & Mingle: July 25, 2018
What is AeroInnovate?
AeroInnovate is an eight-week business accelerator for early stage aviation, aerospace, and drone startup companies. For the first seven weeks, five companies meet virtually with the AeroInnovate team of mentors, staff, industry professionals, and gener8tor to refine their pitches, develop executive summaries, and accelerate their business.
During the eigth week of the accelerator, companies will visit Oshkosh for AeroInnovate's Pitch Camp, EAA AirVenture Oshkosh, and the 10th Annual Pitch & Mingle. Pitch Camp is a two-day event that helps finalize each company's pitch, and helps them prepare for questions from investors and industry professionals. 
On Sunday, July 22, the AeroInnovate cohort will each set-up a display space within the Innovation Showcase at EAA AirVenture Oshkosh. Booth space is provided by AeroInnovate through its partnership with EAA. The five companies will be on display all week, a perfect networking opportunity at the World's Greatest Aviation Celebration where nearly 600,000 aviation enthusiasts from more than 80 countries gather.
AeroInnovate's 10th Annual Pitch & Mingle will take place on Wednesday, July 25, at the Alumni Welcome and Conference Center on the University of Wisconsin Oshkosh campus. Each founder will pitch their business to a crowd of aviation investors, industry professionals, and enthusiasts.
The program's goal is to facilitate the alignment of passionate, successful investors and industry leaders with the best aviation-related opportunites in the world.
AeroInnovate has created a network of entrepreneurs, investors, and industry leaders designed to help aviation related start-ups commercialize their ideas since 2008.
Benefits of AeroInnovate Virtual Accelerator Program
Opportunity to pitch at the 10th Annual Pitch & Mingle
Complimentary exhibit space in the EAA Innovation Showcase at EAA AirVenture Oshkosh
Ability to connect with leading firms in aerospace
Mentorship from aviation, engineering, marketing, IT, and legal professionals
Access to research through our university research center
Low cost housing available during EAA AirVenture Oshkosh
Two-day Pitch Camp focused on refining message and delivery of prelimenary benefit statements
Highly-customized support to help founders successfully build a go-to market strategy
Access to more than $1 million in discounts to products and services
Why Should I Apply to AeroInnovate Virtual Accelerator Program?
AeroInnovate was created to help early stage aviation and aerospace companies grow and prosper. We will connect you with industry leaders to help you work on your business model and pitch.